INDIANAPOLIS, October 3, 2022 — Silage corn is maturing quickly despite a later planting window. Late-season heat is helping silage corn dry down for a better harvest and easier storage. This is good news for northern Midwest and Northeast producers watching the forecast for the first freeze.
"The conversations we're having at harvest focus on protecting investments," said Cari Slater, Silage Technical Manager for the Brevant® seeds brand. "If producers are feeding 75 or 80 pounds of corn silage per head per day, they're relying on a huge amount of on-farm feed, and it must be stored correctly to preserve silage quality. Fiber digestibility plays a critical role after harvest because it allows producers to fuel cows with more energy from a digestible fiber source."
Silage with highly digestible fiber helps producers get more out of what they feed cows. New for 2023, Brevant® seeds brand Bovalta™ BMR silage corn builds on the high level of fiber digestibility that producers count on from BMR, with improved agronomics, tonnage and starch. Brevant seeds brand Bovalta BMR silage corn is built with the newest, elite genetics from Corteva Agriscience to help producers boost milk production and their bottom line.
Two more ways to help maximize investments at harvest are to check whole-plant moisture and get a good cut length. When silage is cut too short, it can pass through the cow too quickly. Cut too long, however, and it doesn't pack as well in a bunker or silo.
"Whole-plant moisture is one of the most critical components of the silage harvest," Slater said. "Producers should target 65% to 68% moisture, depending on how the silage is being stored."
Slater recommends producers work closely with their ag retailer and nutritionist this fall to assess silage quality, evaluate performance and review new products that will help them meet their dairy goals. Brevant seeds brand Bovalta BMR silage corn is the newest addition to a proven line of high-performance silage, including Brevant seeds brand BMR hybrids, Unified® corn silage with SilaSoft™ technology, TMF hybrids and Brevant seeds brand Forage Quality products.
For more information about protecting profitability and silage yield potential, visit your local ag retailer and visit Brevant.com.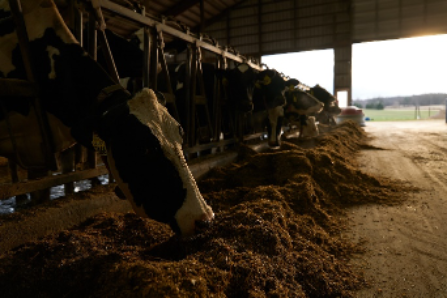 New Brevant® seeds brand Bovalta™ BMR silage corn delivers high levels of fiber digestibility.
About Brevant® seeds in the U.S.
Brevant® seeds is a high-performance corn and soybean brand from Corteva Agriscience that is new to the U.S. market and provides industry-leading seed and service exclusively to retail focused in the Midwest and Eastern Corn Belt. Brevant also offers silage corn, sunflowers and canola. Brevant sets itself apart by providing a unique way of doing business driven by its field experts teamed with local retailers.
For more information about Brevant seeds in the U.S., visit Brevant.com or follow Brevant on Facebook, Twitter and YouTube.
About Corteva Agriscience
Corteva, Inc. (NYSE: CTVA) is a publicly traded, global pure-play agriculture company that combines industry-leading innovation, high-touch customer engagement and operational execution to profitably deliver solutions for the world's most pressing agriculture challenges. Corteva generates advantaged market preference through its unique distribution strategy, together with its balanced and globally diverse mix of seed, crop protection, and digital products and services. With some of the most recognized brands in agriculture and a technology pipeline well positioned to drive growth, the company is committed to maximizing productivity for farmers, while working with stakeholders throughout the food system as it fulfills its promise to enrich the lives of those who produce and those who consume, ensuring progress for generations to come. More information can be found at www.corteva.com.
Follow Corteva on Facebook, Instagram, LinkedIn, Twitter, and YouTube.
# # #
10/03/22
™ ® Trademarks of Corteva Agriscience and its affiliated companies.
Contacts
Larissa Capriotti
+55 (11) 9 9358-4006
larissa.capriotti@corteva.com
Sarah Petersheim
414-739-4616
spetersheim@bader-rutter.com